Dearborn MI Dumpster Rental

Driveway Friendly Dumpsters Available For Rent!
We here at Dumpster Express LLC are a locally based, family owned and operated dumpster rental company that serves the whole area of Dearborn MI. You may think that all dumpster rental companies are created equal but that just isn't true! We know that it can be extremely aggravating and costly to not have your dumpster on site when you need it. While other dumpster rental companies can keep you waiting, Dumpster Express LLC won't. We will drop off a rubber wheeled dumpster and pick it up in a timely manner for all of our customers in the Dearborn MI area. We provide responsiveness, personal service and on time delivery and pick ups. This is our promise to you and all of our customers living in the Dearborn area!
We will stand behind our service and won't let you down.
Some of the services we provide for our Dearborn MI customers:
Clean, well maintained waste dumpster containers and trucks
Fair and honest pricing (no surprises)
Personal service (if you get voicemail during business hours we will call you back within the hour)
Reliable dumpster drop off and pick up (keeping your job on schedule and on budget)
The kind of service and attention you would expect from a true business partner
Fully insured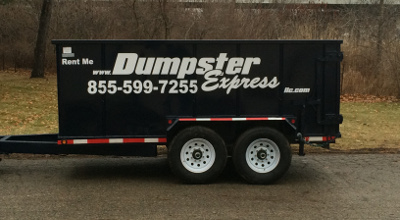 Rubber Wheeled Trailers For Rent in Dearborn MI!
We carry driveway friendly, rubber wheeled trailers. These trailers come in 3 different sizes and won't damage your driveway. We can deliver these rubber wheeled dumpsters to your home or jobsite in Dearborn MI. Click here to see our full line up of dumpsters and trailers for rent in Dearborn MI.
As you can see, we take our business services very seriously. We value our customers in Dearborn MI and their time. So if you find yourself needing a dumpster in Dearborn please give us a call and let us serve you!
Call Today! 1-855-599-7255
Dumpster Rental Blog
When To Order a Dumpster
Not every project needs a dumpster rental. If you are just clearing out a few things then your local garbage collection may take them for you. Some local communities will haul away a couple of large items as part of their service. Some will charge a fee for this. Either way you will need to get the large objects to the street. If you can do this yourself than fine but if they are too heavy for you to get to the street then that's where a dumpster rental company comes in handy.
While you may not need a dumpster for only a couple of large items, you still may need the manpower to get them up and out. Dumpster Express LLC can provide this service for you. If you have larger amounts of debris including large items, then a dumpster rental is the way to go. Let us know approximately how much debris you need removed and we can provide the correct solution for haul away.
A dumpster rental is normally reserved for the larger projects such as shingle removal, garage clean outs, basement clean outs, attic clean outs, new construction debris, remodeling debris, yard debris and such.
Either way Dumpster Express LLC can handle any debris removal situation you may have.