Junk Removal
Sometimes the junk just piles up. Our basements get full of stuff. Our garages fill up. When you need to clean out your over stuffed garages, basements, office space or any other area that's filled with junk, just give us a call and we can deliver the properly sized dumpster to your home. Our soft wheeled dumpsters will not hurt your driveway. We carry 10 yard dumpsters, 15 yard dumpsters and 20 yard dumpsters. All of our dumpsters are rubber wheeled and can accomodate the appropriate amount of trash and debris.
Junk Pickup
After you've filled the dumpster with your junk, Dumpster Express will come out to your home and pickup the junk that needs to be disposed of. We will handle everything from dumpster drop off to junk pickup and junk hauling.
Junk Hauling
Dumpster Express can haul away any junk you may have. From scrap metal, old wooden play structures, old furniture, carpet and tile to larger items like appliances, bath tubs and more! Let us know what type of junk removal you have and we can suggest the correct dumpster size for your particular junk removal job.
Junk Removal Service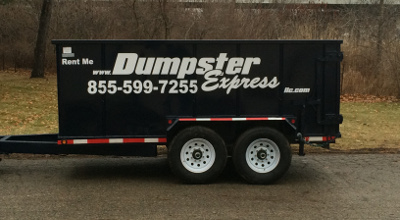 Not only do we remove junk, trash and debris but Dumpster Express can also remove construction debris. Whether it's debris from tear outs or new construction, Dumpster Express LLC can handle your junk removal needs. There are some restrictions so please call the office to inquire about what type of junk is acceptable and which types are not.
Cheap Junk Removal
We here at Dumpster Express LLC aim to give great prices on a dumpster rental as well as great service when it comes to junk removal and junk hauling. We want to be your junk hauling company! Nobody wants to pay any more than they have to for junk pickup so we try to provide cheap junk removal services.
Call Today for your next junk removal job. 855-599-7255